Not A Bad View Looking Out Over Ilet de Cabrit, From Le Chemeau On Terre D'en Haut

We Didn't find The Road Until After We'd Climbed
All The Way To the Top Of Ilet de Cabrit!

Once We Made it up Ilet de Cabrit It Was Time For a Bit Of A Photo Shoot.
In The Background Are The Royal Clipper and The Town on Terre D'en Haut.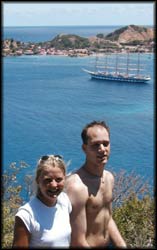 OK, Another Picture If You Must...

Hey Look, That's Where We Climbed Yesterday.
And it's the spot where you took the first picture on this page.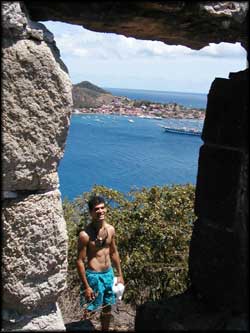 They Sure Don't Build Windows Like They Used To.

With Jon's Muscles On Board It's Time To Go Up The Mast For Some Chores.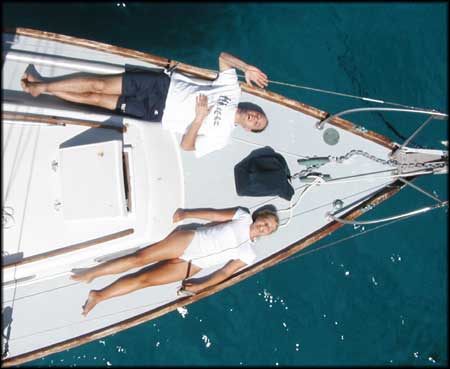 I'm Working Up Here, What Are You Two Doing?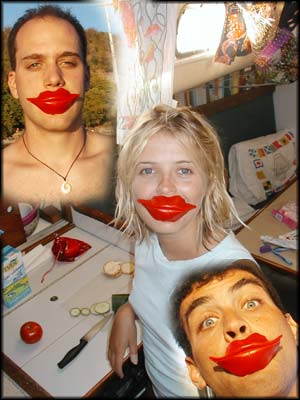 By Happy Hour We're All Goofing Off!

Then It's Time To Make Potato Salad For The Barbie On The Beach
With Some Aussies, Some Kiwis, And Some Brits.

After A Sail Over To Point-a-Pitre Guadeloupe We Go Ashore In Baggybritches...

...And Have A Drink By The Water...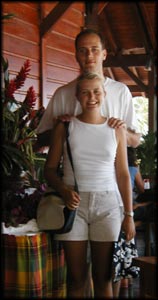 ...And A Bite At The Novotel

We've Had A Good Time, And Jon Has to Leave Too Soon.

More Photos